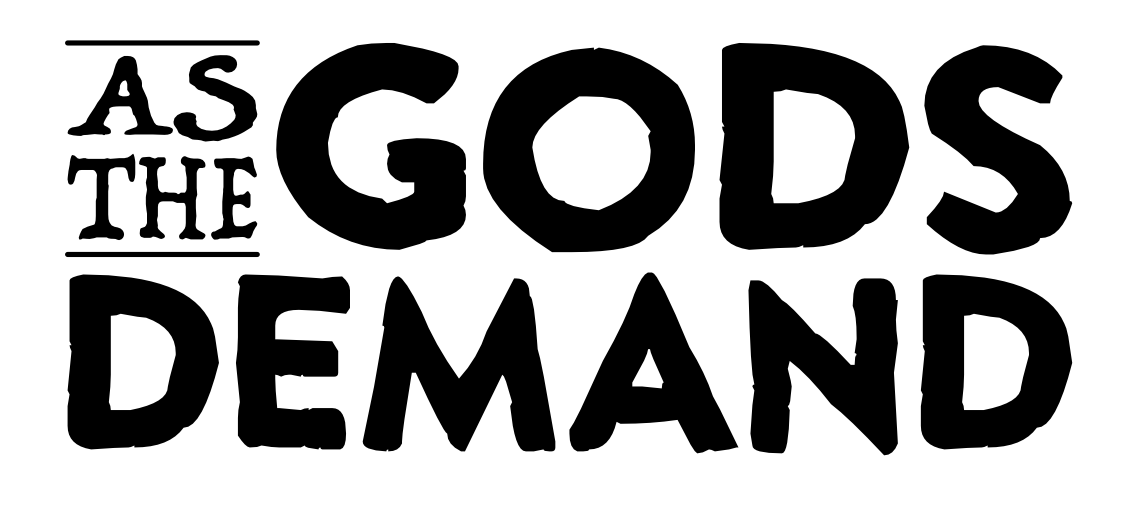 As the Gods Demand
These hands are called to action, as the gods demand..
Theses hands offer supplication, as the gods demand...
These hands are imbued with fervor, as the gods demand...
These hands shall not waver, as the gods demand.
As the Gods Demand
As the Gods Demand is a deconstruction of divine power and deities for use in the world's most popular role-playing game.
Rather than treat gods and their power as something a player can earn through leveling up, As the Gods Demand present divine power as something that can be wielded and earned by anyone, provided they take the appropriate steps and sacrifices. Walking the path of a cleric or zealot now requires action and risks consequence, allowing players to make interesting choices if they wish to seek greater power. The many gods within the zine offer all manner of powers and boons if the faithful is willing to undertake tasks to earn their favor.
What's Inside
Miracles of the Gods: Player rules for a level-less divine magic system involving Favor, Miracles, and Rites
A Curious Pantheon: A series of 8 gods for both GM and player to explore; each with their own miracles, rituals, and demands.
Death is Not the End: Accessory rules on player death and converting your lost companions into relics to assist in death.
Heavenly Servants: Divine-inspired encounters and monsters.
Steps to becoming a deity yourself...
The content in this zine was designed to be mostly system-neutral. While much of it operates with a twenty-sided dice in mind, they can be easily adapted to fit most systems.
Some recommended rule-sets:
Dungeon Crawl Classics
Knave
Black Hack
Old-School Essentials
Mork Borg
Pathfinder
5e
More deity-based shenanigans that you REALLY should check out:
---
Purchase
In order to download this zine you must purchase it at or above the minimum price of $5 USD. You will get access to the following files:
AsTheGodsDemand-DigitalPages.pdf
1 MB
AsTheGodsDemand-PressPages.pdf
12 MB
Comments
Log in with itch.io to leave a comment.
Any news about the stretch goal bonus Gods?
Soon, the writing is done, just needs formatting and art. Had to take a break from it to finish up Cess and Citadel the last 6 months
Hello! I helped itch-fund the physical copy of your fantastic zine earlier this year. Do you have any instructions for how I can get my copy?
First off, awesome product!
Is there any possibility of a SFW art version? I run an after-school D&D club using Old-School rules, and would love to be able to use this.
Too late to get a physical copy?
Levelless Cleric system? This is brilliant. Definitely a niche that needs to be filled. There's a lot of levelless wizard stuff out there, but I haven't seen much for clerics.
This was an instant buy for me.
Any levelless rules for wizards that you'd recommend?
Honestly, Knave is my favorite, where anyone can cast a spell (albeit how well depends on ability score) as long as they have a spellbook
Hits the sweet spot between "weird enough to be cool" and "too weird to be usable." Absolutely using this to populate the list of deities in my next game.
Do you know how much shipping will be? I'm from Spain.
Were doing equity mailing, so it's $12 USD total to anywhere in the world!
I am waiting impatiently ....
XD